By 积木圈子 |
05
September 2020 |
0
Comments
Do you know about Lego's 71374 NES red-and-white machine, which has gathered the designer's efforts!
The price of a real NES (reissue), only 96.76USD.But the price of a Lego NES reached $229.99!
Purchase link:https://www.barweer.com/products/71301-nes-game-console-toy-building-blocks-compatible-71374-ship-from-china
First of all! Highlights of nuclear explosion level! The scene in this Lego NES TV can be moved! I was thinking about putting a static model, but I was already a little bit happy, but I didn't expect to see the video! That's the feeling of shining eyes!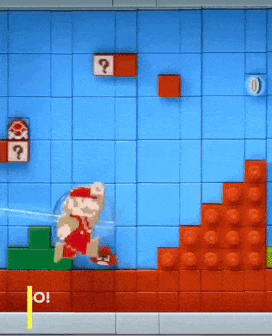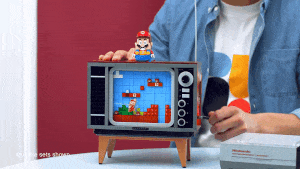 By shaking the handle next to the TV, the scene can be rotated, as well as the beating effect of Mario in the game. How is it done? Take a look!
The essence is a structure similar to a revolving lantern. First, use the crawler to complete the game scene, and then realize the scene switching by rotating; at the same time, Mario's beating is not random, but it swings up and down according to a fixed position and matches the background to achieve linkage.
Secondly, the second highlight that convinced the editor is that most of this work is printed!
The foreign media https://www.stonewars.de/ also made a special analysis of all the pictures and listed the locations of the printed copies for everyone:
1x black 2×4 tablet with "Nintendo"
1x black 1×6 tablet with "B" and "A"
1x black 2×4 tablet with "select" and "start"
1x black 1×4 gray line plate
4x black 2×2 gray line flat panel
4x black 1×1 gray line flat panel
1x dark blue gray 1×3 tablet with "power supply"
1x dark blue gray 1×3 tablet with "reset"
1x light blue gray 1×6 tablet with "Nintendo"
1x light blue gray 1×6 tablet with "entertainment"
1x light blue gray 2×4 flat panel with "system"
1 brick with "1" and "2"
1x black 1×4 tablet with "audio" and "video"
The cassette can be put into the host model. Here is another strong expansion point in the future. It can be used as a trigger switch design.
When the Mario minifigure is placed on the TV, it can be shaken with the joystick, the scene changes, and the actual background music in the game is played. The sense of substitution is really very strong!
To know the price of a real NES (reissue), only 96.7USD!!!!
Action is better than heart !
Purchase link:https://www.barweer.com/products/71301-nes-game-console-toy-building-blocks-compatible-71374-ship-from-china
Leave a Reply
Your email address will not be published.Required fields are marked. *