Review of CaDa C59008 London Vintage Tour Bus Building Blocks on 12th Aug.
About CaDa Blocks----C59008 London Vintage Tour Bus Bricks.
Original Box of Display:
Instructions, stickers, and supplementary cards are individually packaged.

The number of parts is 1770 pieces, divided into 4 steps of subcontracting. Transparent parts are all individually packaged.

The assembly process​​​​​​​:
The window in the middle is a rare size of 4x5, but there seems to be a problem with this SNOT ratio? It takes a lot of force to install the front and rear fasteners.

Reality vs Toys:

Let's take a look at the finished product photos that are very flattering in appearance~
A lot of details make the finished product have a high degree of reduction.

The technology of the wheel eyebrow is very clever.

And with a flag on it.

The left and right sides of the body are decorated with stickers with a sense of design and rich British flavor.

There's a lot of detailing on the tailgate too; the back is a streamlined design.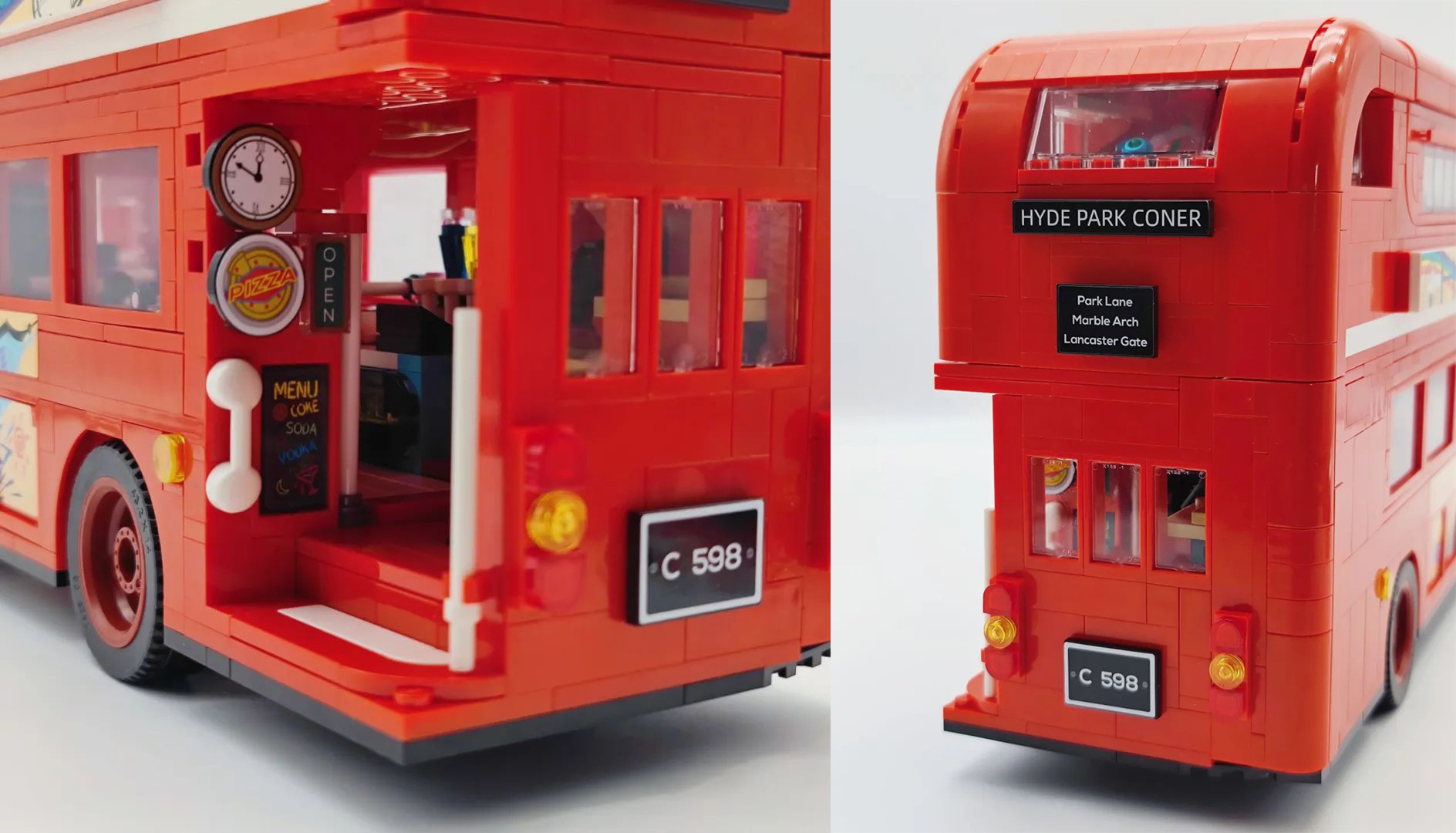 The top layer is a quick release structure, which can be easily taken out. Note that the mirror must be removed first.​​​​​​​

It can be seen that the interior has been decorated in party mode.

Self-service beverage machine.

At the end there is a staircase leading to the upper floor, and there are some cabinets under the stairs.

As for the top layer, it was also mentioned above that the design of the top cover opening is great, you can take a look. The perfect combination of arc parts is achieved by using a lot of SNOT technology and adding two-way connecting bricks.
The interior of the upper level is completely like a party.

The B mode is to make the appearance more "party", directly remove the top cover, replace the railings, and add some balloons to create a very happy party atmosphere.​​​​​​​

Lighting effect:
How About Feel that:

Thanks for your Follow! We will talking next time.
Welcome to purchase Here if you are know more.